When I finished
this sweater
, it just needed a little hat to go with it.
My little friend here agrees, although I am not sure exactly what he is yet. Lion? Giraffe? Sweater stealer?
In any case, he doesn't get to keep the sweater. I hope to donate it somewhere locally here in Middlebury!
In other news, I'm linked up!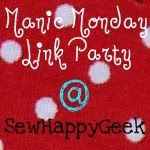 There are lots of fun projects, so check them out!